We've been around for 15 years and we're determined to stay true to our roots. You could say that we're a bit stubborn - it's just that we really know how to make traditional pies and samoosas. Here's how we got here...

| | |
| --- | --- |
| Not a year many people know much about... In 1989, Mr Yunus Abdool and his wife Zeenat took over a small oriental fast food take- away, at the MarkPark shopping centre in the heart of Vereeniging , and called it Indian Delights. | |

| | |
| --- | --- |
| | In 1990, the first of Indian Delights van hit the roads, complete in crimson red, which remains as iconic today as it did then |

| | |
| --- | --- |
| 1991 was an important landmark, when a tiny factory in Lenasia was established as the home of Indian Delights. Producing wholesome homemade stews and curries, meat products, pies, "vetkoek" and samosas and ensuring good quality with an exceptionally unique taste. From here, Indian Delights continued to grow in popularity, making daily deliveries by bicycle to the local area. | |

| | |
| --- | --- |
| Up until 1997,Indian Delights had still been making wholesome take-away foods. With the increase in demand for oriental snacks and the fast growing pie and samoosa popularity, this was but the beginning of a long delicious tale to follow. | |
| | Delhi Delicious launched their first ever flagship store at The Glen shopping centre in Johannesburg. Customers from diverse ethnicities are introduced to the first ever oriental snack store in the country. |

Delhi Delicious expands their retail stores across the country. Customers are hooked on the new and improved recipes. A total of 15 stores at this point and a steady growth of 2 stores per year show the true potential of homemade oriental snacks.

| | |
| --- | --- |
| Delhi Delicious finds a new home. The new factory is 5 times the size of the old one and is now able to experiment on new and exciting products. This year marks the launch of the iconic chicken and mushroom pie which is to be an all- time favourite and rockets to the top of pie flavour sales. | |

| | |
| --- | --- |
| | Delhi Delicious are selected for the Business Entity of the Year Award at the first ever Islamic Finance Business Awards. This award is given to a business entity that has shown significant growth and development over the past five years, as well as contributing to the upliftment of the community. Celebrating their accomplishment at the event, which then marked their 9th birthday. |

| | |
| --- | --- |
| This is a memorable year in the history of our country. People of different races all unite as one rainbow nation, welcoming foreigners from all over the globe to experience our diverse cultural background, our breathtaking country and our mouthwatering food was no exception. Delhi Delicious compiles a database of over 600 interested franchisees, wanting to take the brand across the globe. London, Australia, China, Germany and Europe at large are eagerly awaiting the go- ahead | |

| | |
| --- | --- |
| | Delhi Delicious introduces frikkadels and chilli bite range. The new recipes have even more of our famous fillings, improved oriental spices, ingredients and more chunks of meat, without compromising the authentic traditional Delhi Delicious taste. |

| | |
| --- | --- |
| | Delhi Delicious implements its first facelift store at the Clearwater Mall in Johannesburg. All future stores will take on the new facelift. The new sheek design, vibrantly rich colour scheme, and robust oriental flavours warmly invite their loyal customers to an all new and exciting experience of true indian cuisine. |
To date Delhi Delicious has a 50 store national footprint which is continuously growing. With our love and passion for food constantly at heart, we continuously endeavour to offer value for money products, friendly and quick service. This allows us to produce scrumptious, unique and great tasting food. Our commitment to food safety and hygiene is essential to our business. We acknowledge our responsibility to provide safe, wholesome and strictly Halaal (SANHA certified) food to our patrons.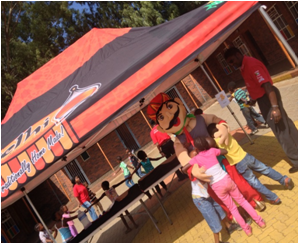 Abdool, Delhi Delicious's official
mascot is born. Abdool is apart of Delhi Delicious's community and social upliftment campaign, designed to educate children from underprivileged schools using our products.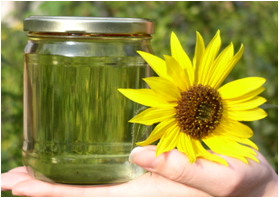 With growing international concern over global warming, pollution and rising fuel costs, Delhi Delicious begins to produce its very own Bio Diesel Fuel. Used cooking oil from the retail chain is converted into diesel and is used to drive the entire logistics network. An additional cleaning soap is also produced from the by-product, glycerol, in the bio diesel process.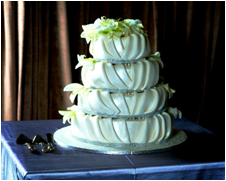 Delhi Delicious launches its sister company, Baker Delhi. Qualified pastry chef, Naadirah Abdool specializes in indulgent, decadent and tantalizing confectionery.
A Delhi Delicious History
This is how we do it

We care about our planet